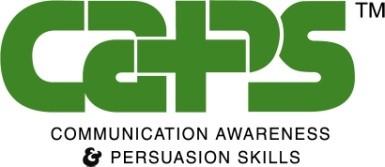 Dr. Larry Skurnick, Measurement Research Specialist, for the College of Financial
Planning identified Communication Skills as the only skills all agents must know.
How can you get better at doing the one thing you are paid to do,
Connecting your solutions to the expectations of prospects and clients?
By adding proven communication skills that help you to ethically persuade prospects and clients to take appropriate action at each step in the buying process. New and experienced agents achieve
immediate and long‐lasting productivity improvement.
What price are you paying in lost earnings every time you fail to ethically persuade a qualified prospect to become a client?
$500? $1,000? $10,000, or more?
What is it costing this year? Over the course of your career?
$5,000? $50,000? $500,000, or more?
Register for this CAPS today! Don't wait any longer to identify and learn proven one‐on‐one
communication skills that can help you break through your production ceiling and reach a much
higher level of success.
• Identify two things that may be holding you back from becoming a better communicator
• Four attitudes to watch and listen for in every prospect or client conversation
• Seven communication skills to master to become a trusted advisor
• The four questions you should ask of every prospect and client
• Eight ways to immediately become a better listener.
You will benefit because you will learn how to attract, serve and keep more clients
experiencing more of the financial success, fulfillment and fun you expect as a trusted agent.