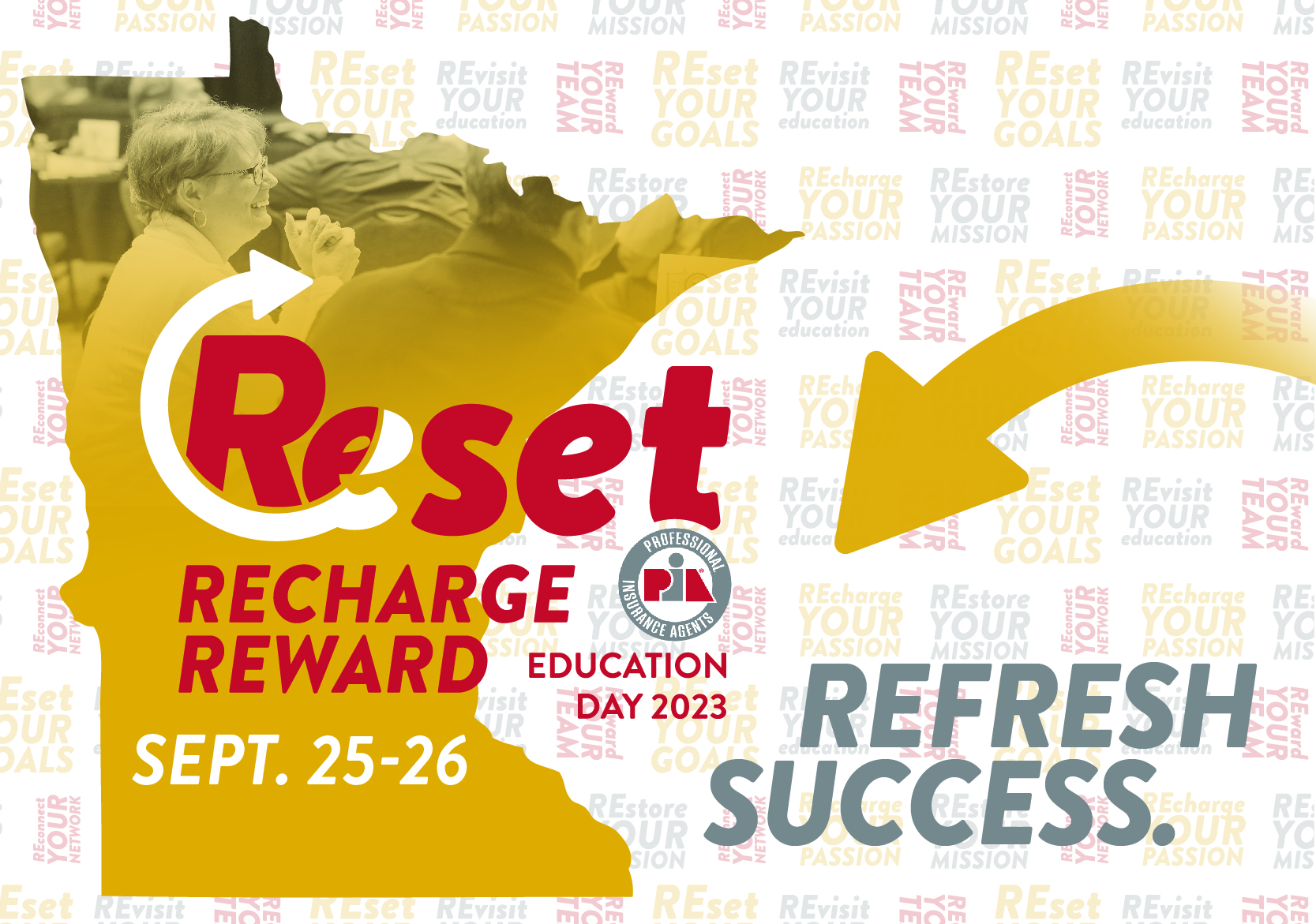 Minnesota's Most

RE

markable Insurance Event!
September 25th and 26th @ The Park Event Center
Education Day 2023 - Reset, Recharge, Reward is your opportunity to network with industry leading partners, receive top notch continuing education on topics like AI, New Agency Tech, Ethics, and The Next Generation Of Insurance Professionals. Reward yourself with a fun filled day of food, Connections, Prizes and a new team photo! You won't want to miss this event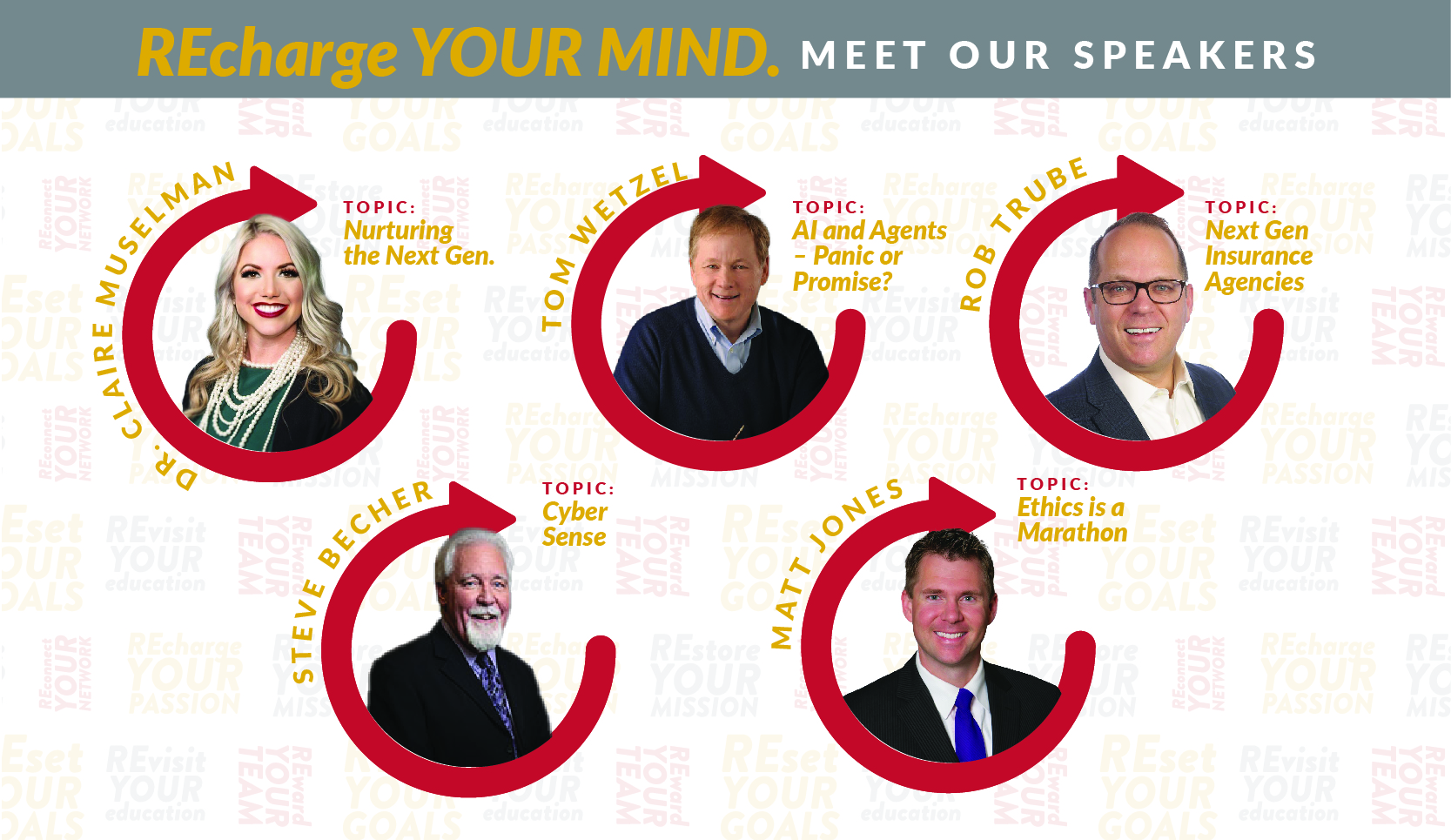 NURTURING THE NEXT GEN – DR CLAIRE MUSELMAN   Dr. Claire delves into the impeding "Silver Tsunami" and the need to actively recruit new talent into the insurance industry. This session discusses the urgency to strengthen mentorship programs and how the industry can find, nurture and inspire the next generation but also ensure their long-term commitment to the field. Let Dr. Claire help your agency attract and retain the next generation and help grow the independent insurance industry through mentorship and relationship building! Dr. Claire is truly a consummate influencer – through teaching, speaking, mentoring and social media!
AI AND AGENTS – PANIC OR PROMISE – TOM WETZEL   Join Tom Wetzel as he guides you through the world of artificial intelligence at a high level. The insurance Industry is already using Artificial Intelligence (AI), but the new generation of tools signal a quantum leap in capability and trigger disruption and realignments within the industry. Tom will demystify AI, address how AI is changing the insurance industry and the pros and cons of AI in the insurance space. Tom will discuss the latest tools and talk about what is coming next, the disruption it will cause, and the importance of cybersecurity and regulation as we get ready to ride the AI wave. (which tees it up perfectly for the next presentation!) You may have met Tom as an exhibitor or heard Tom talk about cyber at PIA Education Day back when cyber was just becoming a thing. Tom's favorite place in Minnesota is the Boundary Waters Canoe Area.
NEXT GEN INSURANCE AGENCIES: ADAPTING WITH AI AND VA's - ROB TRUBE  Artificial Intelligence and Virtual Assistants may not be for everyone (yet), but these new tools just may be your answer to help tackle the talent crunch. Come and hear Rob discuss the opportunities that artificial intelligence and virtual assistants provide for tech-savvy agencies. Learn more about the use of artificial intelligence in insurance agencies to find and develop new customers by generating leads, customizing and personalizing the client experience and improving service, support and engagement. If you enjoy technology, you are going to enjoy Rob. And, if you enjoy flyfishing, you may want to pull him aside and chat. Rob's favorite place is on the stream near his cabin in Michigan. 
CYBER SENSE – STEVE BECHER  Making sense of cyber can feel like a daunting task. This course aims to help you get more comfortable with cyber security and the world of cyber risk. Steve will guide you through what you need to know about cyber including: awareness of cyber schemes and how to mitigate them; your requirements under Minnesota's new Information Security Law; and understanding insurance products that are available to protect you and your clients against financial loss in the event of a breach. You may know Steve from PIA's CPIA seminars, where he consistently receives high marks from those who attend. We are happy to have him back at PIA Education Day! In Steve's spare time you can find him enjoying a lake near Park Rapids or singing in his local church band. 
ETHICS IS A MARATHON – MATT JONES  Ethics is the foundation of the insurance industry. Matt Jones will discuss business and professional ethics, core values, and the fundamental principles of ethics and moral conduct required in the insurance world. Matt will share his principles of trustworthiness, creating a reputation of credibility and dependability and how to utilize reasoning and decision-making skills to lead to the right actions. Matt is known as the "Eight Continent Marathon Man" who went from being a three-time cancer conqueror and re-learning how to walk to completing eight marathons on eight continents – yes, that includes Antarctica and the newly discovered continent of Zealandia! 
Come Early For The Fun - Stay For The Education and Even More Fun!
Monday, September 25
6:00-8:00PM All Industry Reception
Tuesday, September 26
7:30-8:15AM Registration | Exhibits Open | Continental Breakfast
8:15-8:30AM Announcements | Introductions | Early Bird Prize Drawing
8:30-11:30AM Nurturing The Next Gen | AI and Agents - Panic or Promise? | Next Gen Insurance Agencies
11:30-12:15PM  Lunch
12:15-1:00PM Exhibits
1:00-4:30PM Cyber Sense | Ethics Is A Marathon
4:45PM  Closing | Grand Prize Drawing | Exhibitor Drawings
5:00PM PIA Annual Meeting 
*6 CE Credits Pending Approval

SPECIAL THANK YOU TO OUR PLATINUM PARTNERS